Christmas 2004 was a blur! Starting around Monday the 20th, the activity level at our house rose dramatically. Here are the highlights of the week leading up to Christmas...
Last Minute Gifts to Buy
Like every year, as much as you plan for Christmas, there is always something to buy last minute. This, of course, happens to me much more than it happens to Jenn. Historically, I have always been a Christmas Eve shopper, but Jenn has started to convert me. I didn't buy all of my gifts on Christmas Eve Day, but 30-40% was normal (hey, cut me some slack... there are great deals). I am not like that any longer, mostly because I am spoiled. Jenn buys most of the gifts! Even so, there were a few things left to get and time was running out. This does not lead to a relaxing week before Christmas.
Holiday Activities With the Kids
There were a lot of activities to do with the kids. We had holiday specials to watch (stored on our TiVo for convenient viewing). This takes up time when you need to shop and prepare for Christmas. Don't get me wrong, I enjoyed every moment of spending time with the kids. It is what Christmas is all about.
We also had The Fantasy of Lights to visit (http://www.fantasyoflights.com/). There is a big park not far from us that decks itself out in Christmas lights. It take about 15-20 minutes to drive through and see them all. While you drive, they play non-stop Christmas music on an FM radio station frequency, so that you can listen while you view the lights. It is a wonderful Christmas tradition. It reminds me a bit of La Salette back home (http://www.lasalette-shrine.org/lasalettechristmas.htm).
The Fantasy of Lights was a huge hit with all of us. Casey and Quinn were mesmerized the entire time!
Preparing for Christmas Eve and Christmas Day
Christmas Eve and Christmas Day festivities were at our house this year. There was a lot to do to get ready. I must admit that Christmas Eve does not register much in my memory because there was so much to do. Jenn spent most of the day baking with the help of Jackie. While Casey and I spent our day running errands. Here is a tip for you all... don't go food shopping on Christmas Eve Day! I spent 37 minutes waiting in line at the grocery store!!! It was like being at Disney World, except there was no big payoff (except lightening my wallet). At least Disney takes the money up front!
Casey and I were out and about from around 1:15pm until 4:15pm. He never complained about going from store to store or waiting in line. As annoying as the day could have been, we had a great time. I enjoyed every minute that I spent with him that day. We called it our big adventure!
Meanwhile, back at BatesCentral, Jenn was cooking and cleaning and entertaining the troops! It was a busy day, but we managed to pull it off (and still have time to make some Christmas crafts).
The 2004 Christmas Eve Crafts
Jenn, Jackie and I were up late Christmas Eve wrapping, putting toys together and preparing the house for Christmas morning. We managed to watch a couple of movies while we worked (
Elf
and
The Terminal
). I think that we were in bed sometime around 2:00am. It was a lot of work, but for the kids, it would be worth it!
Christmas Morning
Christmas Day started at 7:10am. That is what time Casey came and woke us up. I was very pleased to get to sleep until 7am! Casey laid in bed with us until Quinn woke up (about 10 minutes later). Not too bad. I remember Tom and I getting up around 5:30am. I expect Casey and Quinn to get us up earlier on Christmas morning as they get older.
Well, Christmas morning went as expected. First we checked to see if Santa had finished the milk and cookies that we left for him. It was no surprise that not only had Santa polished off the goodies, but the reindeer had eaten the carrots that we left (all nine of them)!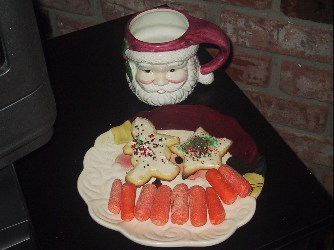 Goodies for Santa and the Reindeer
Next we opened out stockings. The kids got all kinds of toys and candy. They were very excited! After that, we moved on into the living room to ravage the presents under the tree. In true Bates fasion, it was a paper ripping frenzy! Quinn was hilarious! Every time you said, "Here is a present for Quinn," he would respond, "For meeeeee?" The tone in his voice when he said it was that of someone who was truly amazed and astounded. It was classic!
After we finished covering the living room in wrapping paper, there were still a few gifts left to give. We had gotten Casey and Quinn new bikes. They were hidden in the garage. They were ecstatic! Oh, but we weren't done yet. In the back yard we had two more gifts. Nana and papa (my parents) had gotten the boys a mini roller coaster and mimi and gramps (Jenn's parents) had gotten the boys a slide. I thought the kids heads were going to explode! They kept running back and forth between the slide and the roller coaster. It was a wonderful morning!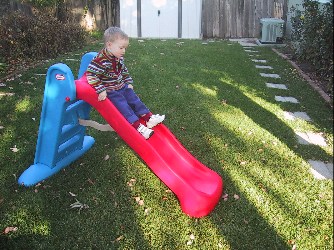 Roller Coaster Riding and Slide Time
Christmas Day
The rest of the day was a blur to me. We had breakfast. Jenn had made cinnabuns from scratch (the best you'd ever taste). The whole gang came over for dinner. We ate, played games, drank great wine and really had a wonderful time. After dinner we had another round of presents with Jenn's family. The kids made out like bandits!
By the time everyone left later that night, we were all exhausted. Christmas 2004 was a success! It was a much appreciated after Christmas 2003. If any one remembers, Jenn was very, very sick last Christmas season. She felt cheated out of the holiday, so it was even more special to have this year go well. It would have been a perfect Christmas had my family been with us.
Bill